Willson Brass Instruments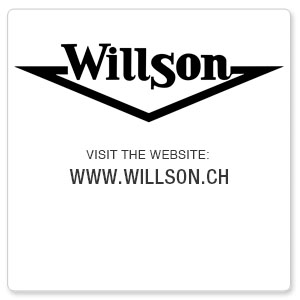 World-renowned Willson Brass instruments.

Willson's successful philosophy is to demand design perfection in all areas of brass instruments.

Since it was founded, Willson has set itself this challenge, of constantly optimising the high requirements of professional musicians in terms of sound perfection, intonation and design.


Founded by Willy Kurath sen. in 1950, the company started by repairing wooden and metal percussion instruments. After five years of a heavy workload of repairs, there arose the intuitive wish to finally produce something better, instruments that would be more satisfactory to play.


1955 saw the building of the first new workshop and the realization of plans for the first KURATH rotary valve instruments. They proved to be successful very quickly, and Kurath sen. decided in 1965 to build bigger premises on the same site in Flums. At the same time he decided to give the company a new business name, one that would be easy to pronounce for non-German speakers and that also had a rather "international" sound to it. At this time we acquired our present name "WILLSON Band Instruments Switzerland".
In January 1993 a sensation in the production of rotary valves became reality. For the first time ever, Willson Brand Instruments introduced the public to a rotor with 100% air throughput volume. The new part also made consistent use of the latest materials and technologies. The precision valve was given the name ROTAX and was patented.

In the second generation, under Willi Kurath jun., the company's philosophy remains unchanged - small, compact and exclusive. With total availability for our customers. Today, Willson Band Instruments employs a team of 25 brass specialists. Professional bases in: USA, Japan, New Zealand, Australia, the Benelux countries, France, Germany, UK, Spain, Portugal and Scandinavia.

Products for the professional sector for: wind bands, brass bands, symphony orchestras and soloists. "


Rotax rotary tubas and piston valve tubas in: Bb-Eb flat-CC and F
Euphonium models 2900TA and 2950TA
Slide trombones with the revolutionary ROTAX rotors
C.S. Willson French Horns with the revolutionary ROTAX rotors
Eb tenor horns new models specially for brass bands
Celebration Willson Bb and C trumpets Celebration Willson Bb cornets