Aidis Flutes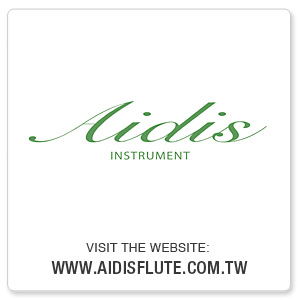 Aidis Flute
With the efforts and persistence that have been put into our products, they are more than just instruments but a collection of art

All Products are made in Taiwan
With unique design and the expertise of our Senior Craftsmen comes the best quality
Solid tube design and anti-interference tone holes give superb product durability


Our highly skilled craftsmen make our after-care service fast and reliable.
As an alternative to punch made cups, we use CNC lathes to give greater precision engineering cups therefore the quality is more stable and precise. Inside the cup, it's flat with a straight angle that makes stay tight, and the closure is properly sealed when play. The sound is soft and beautiful
Luscious tone, roundness, and con brio, with a rich low-pitch and clarity to the high-pitch: fulfils your expectations of excellent tone quality.


For the professionally high performance flutist, the French arm design model is a smart choice
Our flutes have perfect pitch and beautiful harmonic resonance which makes it easier to play and to bring out the best in your performance.
We also make flutes for some American brands.